Well, we're back in Tokyo ahead of travelling home on Saturday. It's kind of sad, but I think we're both pretty ready for home. We're fat and a bit tired of lugging suitcases around to be honest.
Anyway, before that – Nara! This is a former capital of Japan, and has some really old buildings. Like actually truly old. We started our day with a run…in the rain. A nice man from our hotel offered us an umbrella. I think we might have been branded "mad".
We were staying right by Nara Park, but since this was littered with shrines, I was concerned us running was somehow disrespectful. We all remember these bozos…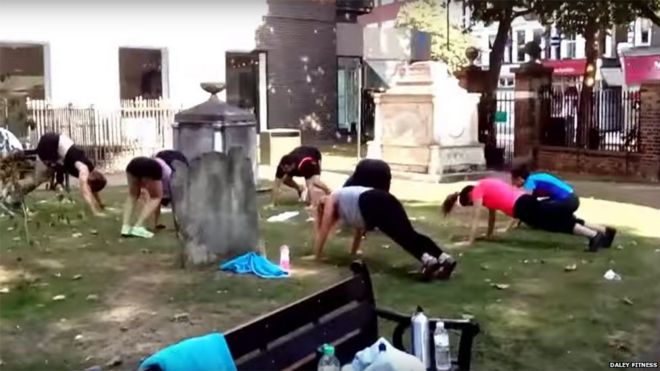 So we tried to skirt around the outside. We'd see the shrines later, at a more sedate pace.
We spotted some deer, but they were mostly just chilling. No one was attacked. Seriously, I've heard they're a menace. (More on that below).
Being a bit unsure where we could run, we only did 3.8 miles which was a shame. But oh well.
When we got back, I put on my yukata. I wasn't quite sure why the hotel had provided them – since we arrived at 4pm and check out was 10am (ugh – something I should watch out for)….but it was the perfect thing for the hour of repacking that is now required for each city move. I am now on a mission to buy one. They're so comfortable and light to wear.
The instructions in the room told Matthew he'd been wearing his in the ladies' fashion at the temple on Koyasan. Men tie theirs at the back; women at the front/side. *Ha*.
Once we were showered and ready, we headed back out to Nara Park. So the pagoda we saw the previous night has five stories and….is actually old!! 15th century. No rebuilding, no moving – just old.
It was still raining.
This gate – Tedoiji Gate – was even older. 12th century!! (I can't delete the white space below; probably something to do with Panorama Mode, employed to fit in the gate).
Next up was this bad boy…
…then inside the walls, this. The Japanese do not mess around when it comes to shrines.
Apologies for the lack of Matthew for scale.
Now; the deer. They are clearly a branch of the Brighton seagulls mafia. They are pushy, aggressive and bold. Tourists of course love them, and some really dumb ones buy crackers from dedicated street vendors to feed them.
Sadly, you can't hear Matthew shout "I'm a Disney princess", which actually happened.
They are not shy. This one didn't even flinch, and the cars just drove around him.
Andy they're everywhere. I must have seen hundreds today. One had the nerve to headbutt me. Much like herds of cows on walks, we were not friends.
Thank God for the army of public worked, cleaning up the crap from the shrines.
Enough shrines/being bullied by deer; food time. We decided to have katsu. Mine won't be to everyone's taste, but it was an egg and katsu dish and it was SO good.
So staff in restaurants do this crazy shouting thing. I mentioned it when we ate sushi in Kyoto, but they literally yell the whole time. We believe they're shouting "hello" and "thank you" etc. If someone leaves, there is a deafening chorus. This was no exception and I find it so interesting. Rumoured to be somehow shy or reserved, I have never heard such loud people. In a great and welcoming way.
Maybe I will try to film this tomorrow.
Anyway, lunch was of course closely followed by pudding. Seriously; SO FAT. But I am okay with that. I have panic-hand-washed the clothes that still fit me to see me through to Sunday, and a lot can be achieved with a healthy week. Er….where was I? Oh yes; pudding.
We saw some men making mochi. They mean business.
It was then time to relaim the mega cases,and head to the station and back to Tokyo.
This was a four hour journey in total, but we both slept most the way. I tried to capture the speed of the Shinkansen. You can really feel it and I am a bit sad that was our last journey. Anyway – here's a video.
We're staying at the same hotel we started our holiday at. Boring, but it makes life easy. We didn't get to the hotel until about 7.15pm so we headed to one of the many high rise buildings for dinner. To my Western eyes, they're shopping malls with offices above. To the Maranuchi community, they are where it's at. We went to somewhere Matthew found on his online trawl and it was amazing. We sat at the bar, whilst this nice young man put endless sushi on our plates.
Literally, one piece at a time. The set menu, which is all that they serve. He puts fish in front of us, tells us what it was, we eat it and make "delicious" noises (/engage basic Japanese – mostly Matthew). Repeat several times.
It was right up there with the best meals we've had, not least for the fun interaction with the chef and watching him make each thing by hand. The food was amazing. We had properly raw shrimp nigiri – which was a huge shrimp. Nothing like the cooked prawn you normally get, or the occasional very small raw one. It was easily 3.5″ long. Amazing.
Anyway, Friday is our last complete day. I think we're both a bit relieved that the luggage-lugging is over, and we're honing in on the best bits to fit in one more time. So all being well, tomorrow starts at the fish market. BOOM!
Happy Friday 🙂