Here's my view as I write. Delightful. Our room has a Nespresso machine, which I have been putting to good use.
Sadly, Matthew has just put on Pacific Overtures (a Stephen Sondheim musical, if you're not in the know).
We have opted to have quite a lazy day today. This was largely determined by the amount of wine I drank last night, which *could* be classified as too much. With slightly fuzzy heads, the £17 for breakfast seemed entirely reasonable so when the alarm went off, up we staggered. Third time lucky for breakfast in Japan – it was great! I am up for trying different foods (see photo from yesterday; what was that???) but breakfast is where I hit my limit. I expect the Japanese breakfast foods have been great, but the Western food has been terrible. Neon orange scrambled eggs; grey french toast, and croissants that could seriously jeopardise international relations between Japan and France. I know I sound uncharitable, but it has been bad. Breakfast was included in Kyoto, and I didn't bother going on the third day.
Well, we were very pleasantly surprised here. In fairness, it's a "nice" (expensive) hotel, and the breakfast itself isn't cheap. The same could be true of our Tokyo hotel though. There were all sorts of pastries (interesting, all called "Danishes" – including the chocolate Danish. Seriously, the French will get pissed off!), fruit, pancakes, hash browns, fried eggs, streaky bacon….you get the idea. A different restaurant in this mega hotel (the lobby is on floor six and we're on floor 32) serves Japanese breakfast, so it was all Western. Anyway, a lovely way to start the day.
We then lounged around in our room for a bit, and I slept for a couple more hours. At 1.30pm (I know; scandalous) we got moving, and headed to the hotel gym. When we arrived yesterday, I had no idea why I had booked this hotel (prior to arriving). Great location? Great facilities? Near a running route? It feels like a very long time ago I booked it. Well, last night confirmed we are right in the very centre of what Osaka has to offer. And as I might have mentioned, our room is great.
Well, so is the gym. I really prefer running outdoors, but the roads in the cities we've been to have been impossibly busy and involve waiting at crossings every 20 metres or so. The hotel has jogging routes recommended on the website (no doubt a reason I chose it), but it was hard work just walking six blocks last night, and this would have me running about 20 blocks to the river. It would hardly be running.
Fortunately, there was this alternative: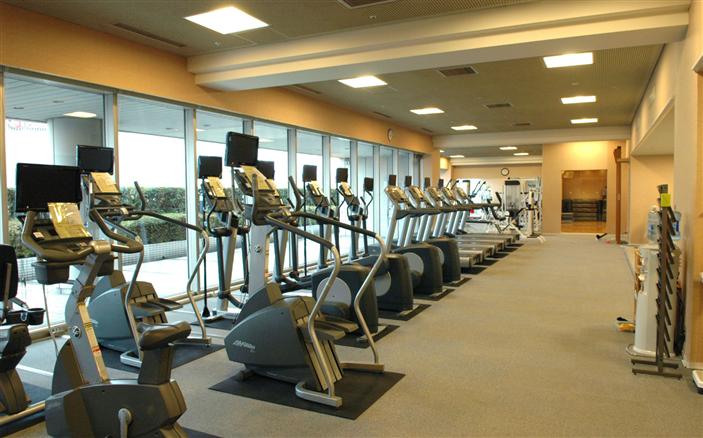 Matthew was pleased as they had all manner of weights, mats, and resistance machines.
I ran 10km in 50 minutes, at a variety of speeds with about half at 1% incline.
The only way I can get through boring treadmill running is to mix it up a bit. I start off at about 11km/hour. It's easy. I add in 1% incline. The distance crawls up. I get bored. I up to 11.5km/hr. 12.0km/hr. And so forth until I reach 13.0km/hr. I hammer away at that for 1km, sweat flying, gasping for breath (it's not even fast….but I assure you this is how it goes), and then remove the incline and go back down to 11.0km/hr. And so the cycle starts again. It actually works really well for me, as the slower bits let me get bored (a good sign you've recovered), and the faster bits get through the distance, and give you a proper workout.
There were signs everywhere forbidding mobile phones. Not wanting to incur castigation (the above photo is from the website), I just watched some Japanese TV. It was a whodunnit- a school girl had been killed. It turns out, it was the head teacher who broke into the room and found her….her actually killed her at the point he discovered her "dead" (not dead….just unconscious) and the nice detective lady figured it out as she found a small piece of foil he'd used to jam the door, meaning he had to go in first as the one who could break down the door. My many years of training, watching Midsomer Murders, really paid off as I was able to follow this pretty well despite not understanding a word.
Anyway, that done, we're back in our room (which housekeeping has taken care of in our brief absence) and will head on our shortly. On our first night in Osaka we headed to a Okonomiyaki restaurant that was well reviewed on Trip Advisor. Apparently it's "worth the wait". Well, the queue had perhaps 20 people waiting, and the last person was a security guard with "closed" written on his back. Clearly a popular place! Since we've somehow skipped lunch,we're going to head there super early for a dinner in keeping with the Koyasan monks' schedule, on the basis we could find a bar to have some snacks later if we wanted.
---
Well, we got to the okinomiyaki place and the nice security guard told us it would be a two hour wait. Er, it simply cannot be that good. So we found alternative food.
No ambiguity as to what's on the end of my chopsticks tonight.
Then we went for pudding; French style this time.
Then, we went to a bar Matthew had found in his research – Cherry Bomb. It was a "rock bar" – which here basically means it's American. A total cop out, but it had great reviews and we figured it would be good for one or two.
As with almost everywhere in Japan, it wasn't somewhere you could peer into from the street as it was on the fifth floor. You get into a crappy lift and hope for the best. I don't particularly like this aspect, but it's a vertical city.
Will it be crap???
No – it was the best place ever. But still – American. A total cop out, right?
Well.
It turns out, there are a lot of Japanese people who want to practice their English and this place was AMAZING. It was full of regulars who wanted to chat to us! One guy, Nori, had lived in the US for nine years,and he just wanted to keep up his English and remember fun times.
Most people seemed to speak the international language of Jenga.
Espresso martini!
Everyone was insanely friendly. This girl arrived and immediately gestured that she liked my fringe (she had one too) and high fived me.
You'll notice by this point, I am the other side of the bar chatting to my new friends Maki and Hiromi. They're the girls in this photo, taken earlier in the night.
More Jenga (Matthew was in heaven).
Camera skills deteriorated, but you get the idea.
More Jenga.
Maki had mad Jenga skills. It drove Matthew mad as she seemed unbeatable. He tried to improve his abilities with beer, which didn't work out well for him.
Anyway, we got back to the hotel at about 3am. Ouch. Matthew is packing, and I need to panic shower so we can check out in 20 minutes. Today will be painful, but so so worth it. Thank you Osaka!!