On Friday morning, I did 20 minutes of strength training then ran 6 miles to a station (not the nearest to me) and caught the train to work. It's quite a nice route, which lets me run across Tooting and Wandsworth commons, and then the trains are pretty frequent.
I have drinks with some former colleagues after work, so definitely didn't want to be lumbered with my bicycle. Focus on the prize Hannah.
In a trade-off between sleep and getting up earlier to eat something and wait for it to digest, I take sleep. Every time. So I did this exercise on an empty stomach.
Matthew and I always have breakfast when we get to work, primarily to avoid having a second breakfast at 10.30am. I routinely cycle, run, and do my strength exercises before I eat anything.
I mentioned this to a friend and my brother last weekend, and both were appalled.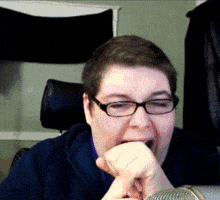 They both said eating was number one on their agenda every single day without fail. Otherwise, they feel sick, shaky, and weak.
So they think I am crazy not only for waiting to have breakfast, but for also exercising without eating first. Matthew and I just couldn't see the problem.
Maybe we're superheros?
It seems to be something that really divides people!
Could/do you exercise before eating breakfast?
How long are you awake for before you eat breakfast most days?